Eric's Featured Products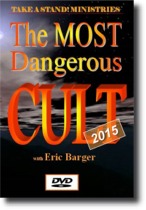 New Update Just Released!
The MOST Dangerous Cult - 2015
- Is it Mormonism? - Jehovah's Witnesses? - Islam? - Atheism? - Scientology? - Perhaps the New Age Movement? - Maybe the Mind Sciences?

INCLUDES:
Dozens of updated slides and clips documenting the spread of spiritual Liberalism within Mainline and Evangelical circles.
This newly updated resource, an hour and 32 minutes (1:32) in length, also includes the account of how Eric and Melanie were called into Christian ministry. In those early days they came face to face with the fact that not everything or everyone who claims the title "Christian" actually is.
Liberalism presented as Christianity: The MOST Dangerous Cult then and now!
---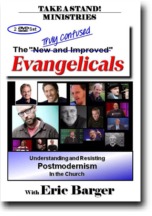 The New Confused Evangelicals:
Understanding the Resisting
Postmodernism in the Church
(New Two DVD Set from Eric Barger)
The most extensive research and expose' we have ever undertaken concerning the forces and beliefs that are shaping Twenty-First Century Christianity.
Disk 1: Understanding and Identifying
Disk 2: Resisting and Combating
IN THIS DVD SET…

Eric Barger exposes what is nothing short of a wholesale, end-time abandonment of the Bible - all in the name of "Evangelicalism."
On Demand

---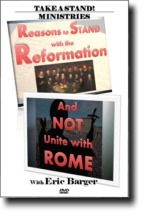 Reasons to Stand with the Reformation and NOT Unite with Rome
(New DVD from Eric Barger)
IN THIS VIDEO…
Eric Barger details: Nine Reasons why the Catholic system opposes the Bible including Idolatry, Praying to or through the Dead, Purgatory, Faith & Works, Papal Authority
- Current Ecumenical movements that ignore Scriptural commands
- A Review of The Reformation and the "Reformers Hall of Fame"
- The deception of "Unity"

"Unity at the cost of truth isn't really unity. How can unity be our path if it is actually based in error?" – Eric Barger
On Demand

---
View all Books, CDs, DVDs and Teaching Materials HERE!