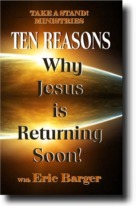 Ten Reasons Why JESUS is Returning Soon!
(New DVD from Eric Barger)
Eric Barger refers to this as one of the most important messages in his 31+ years of ministry.
Fulfilled Bible prophecy is the focus here, in particular the extraordinary volume of direct prophetic fulfillments in modern times.

Consider that 2500 years ago the men of the tribe of Issachar knew the signs around them and how to respond (I Chronicles 12:32). Stressing the importance of understanding the times, Jesus Himself chastised the Jewish leaders for an ignorance of the signs in their day (Matthew 16:1-3).

Now, the voluminous nature of the signs indicate that the return of Jesus, our "Blessed Hope," is surely just ahead! Believers cannot afford ignorance during these exciting days. Do you know the signs?
---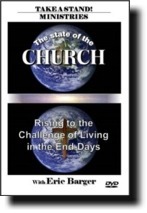 The State of the Church
(New DVD from Eric Barger)
IN THIS VIDEO…
Eric Barger lists and details many of the challenges facing the Church in 2014 including:
- Secularism
- Atheism
- Islamic agenda
- The Occult
- New Age
- The Cults
- Postmodern "Christianity"
- Emergent Church
- Eric focuses on what may be the two most urgent challenges: The Homosexual Agenda and the advancing Ecumenism blurring the lines between Roman Catholicism and biblical Christianity.
BONUS TEACHING!
In a unification effort focused on destroying the Reformation, Pope Francis has essentially asked Protestants to ignore why Luther, Wycliffe, Tyndale, and the other Reformers broke away from the RCC nearly 500 years ago. Shockingly, some of our most popular and respected Evangelical leaders have joined his cause!
As the cries for "unity" seduce many to come "home" to Rome, Bible believers need answers to respond to those being enticed into such compromise. Speaking directly to this, Eric has included a special bonus segment explaining the validity of the Reformation and detailing just some of what separates biblical Protestants from RCC teaching and practice.
Remember:
the temptation to conform for the sake of "unity" isn't worth considering if it comes at the cost of truth.
---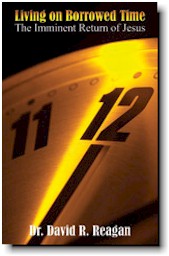 Living on Borrowed Time
(310 page book by David Reagan)
Dr. David Reagan answers many questions concerning the second coming of Jesus including fulfilled prophecy, understanding the season we are in and the signs of the times, and perhaps the most convincing sign of the Lord's soon return.
A unique feature of the book is a prophecy forum composed of 22 Bible prophecy experts who reply to 11 questions concerning the biblical signs of the times that are supposed to signal the imminent return of Jesus.
---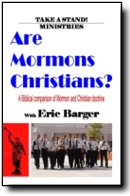 Are Mormons Christians?
A Biblical Comparison of Mormon and Christian Doctrine

IN THIS VIDEO…
Overview of Mormon History
Joseph Smith & his prophecies examined
Mormon Jesus vs. the biblical Jesus
Godhood for mankind?
Mormonism and "works" salvation
Can Mormonism redeem a soul? If not, what is their end?
---
View all Books, CDs, DVDs and Teaching Materials HERE!