Eric's New Products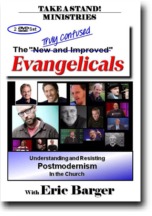 The New Confused Evangelicals:
Understanding the Resisting
Postmodernism in the Church
(New Two DVD Set from Eric Barger)
The most extensive research and expose' we have ever undertaken concerning the forces and beliefs that are shaping Twenty-First Century Christianity.
Disk 1: Understanding and Identifying
Disk 2: Resisting and Combating
IN THIS DVD SET…

Eric Barger exposes what is nothing short of a wholesale, end-time abandonment of the Bible - all in the name of "Evangelicalism."
Carefully detailing the players, methods, and beliefs, Eric explains how this sweeping Postmodern-Emergent redefinition has led to the rejection of the orthodox doctrines that have defined Christianity for the past twenty centuries.
Eric explains and defines the terms, documents and quotes the confused evangelical leaders, lists what to watch out for concerning this topic, and suggests steps you can take in combating Postmodernism in the Church. Above all, everything is examined against the backdrop of the Bible to determine how authentic Christians must respond.
On Demand

---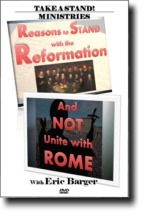 Reasons to Stand with the Reformation and NOT Unite with Rome
(New DVD from Eric Barger)
IN THIS VIDEO…
Eric Barger details: Nine Reasons why the Catholic system opposes the Bible including Idolatry, Praying to or through the Dead, Purgatory, Faith & Works, Papal Authority
- Current Ecumenical movements that ignore Scriptural commands
- A Review of The Reformation and the "Reformers Hall of Fame"
- The deception of "Unity"
This DVD addresses many concerns facing Bible-believers about Catholicism today. Here you'll find sold facts - direct from Roman teachings in the Catholic Catechism – to answer the drumbeat of "unity" being heard throughout the Evangelical world.

"Unity at the cost of truth isn't really unity. How can unity be our path if it is actually based in error?" – Eric Barger
On Demand

---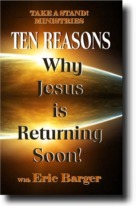 Ten Reasons Why JESUS is Returning Soon!
(New DVD from Eric Barger)
Eric Barger refers to this as one of the most important messages in his 31+ years of ministry.
Fulfilled Bible prophecy is the focus here, in particular the extraordinary volume of direct prophetic fulfillments in modern times.

Consider that 2500 years ago the men of the tribe of Issachar knew the signs around them and how to respond (I Chronicles 12:32). Stressing the importance of understanding the times, Jesus Himself chastised the Jewish leaders for an ignorance of the signs in their day (Matthew 16:1-3).

Now, the voluminous nature of the signs indicate that the return of Jesus, our "Blessed Hope," is surely just ahead! Believers cannot afford ignorance during these exciting days. Do you know the signs?
---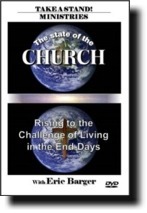 The State of the Church
(New DVD from Eric Barger)
IN THIS VIDEO…
Eric Barger lists and details many of the challenges facing the Church in 2014 including:
- Secularism
- Atheism
- Islamic agenda
- The Occult
- New Age
- The Cults
- Postmodern "Christianity"
- Emergent Church
- Eric focuses on what may be the two most urgent challenges: The Homosexual Agenda and the advancing Ecumenism blurring the lines between Roman Catholicism and biblical Christianity.
On Demand

---
View all Books, CDs, DVDs and Teaching Materials HERE!