Greetings!
We are exited to announce that Melanie and I will once again be hosting a wonderful trip to Israel this coming November - and we want you to come with us!
We'll visit many of the major biblical sights making what we read in the Scriptures truly leap off of the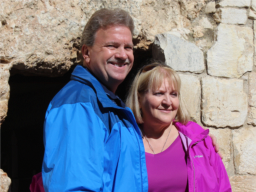 pages in a new way.
Also, we'll be doing some things not on the agenda of other tours such as visiting an Israeli military base. This trip is truly going to be the experience of a lifetime!
(That's Melanie and I
at the Garden Tomb in Jerusalem!)
Here are just a few of the details:
- We are once again taking a maximum of just 50 people. This will allow us to travel throughout Israel, learn, experience, and interact in a more intimate setting.
- All accommodations, ground travel, and food in Israel will be first class.
- On our last trip we were blessed with the fantastic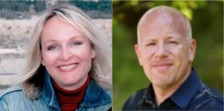 service of two Messianic guides, Scott Volk and Tisha Michelle. I am very pleased to announce they will both be with us again th
is year. They are simply the best. Wow! The vast knowledge that Scott and Tisha lend concerning the land of Israel, the Jewish people, history, places, and events will greatly enhance your experience and understanding of God's Word and the Holy Land.
I will also be teaching with them along the way this year as well.
(See our Itinerary here.) Please understand, t
his is far more than just sight-seeing. The knowledge, insight, and inspiration we hope to provide will be a source you'll draw from literally the rest of your life on earth!
-
The weather during our previous November trip was superb, the itinerary was spectacular, but
the bond that developed between those of us on the trip was truly like a family. So many who went with us remarked that it was the best trip, anywhere, anytime - and it was. We are already praying for God to assemble exactly the people that He wants to take part in "Experience Israel" this year.
- The cost of "Experience Israel 2018" is just $3,799 (per person, USD) (based on double occupancy) and is priced to include everything (except tips) from JFK Airport in New York City, round trip.
- Those wishing to make their own arrangements for air travel can meet us in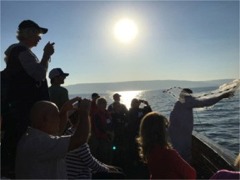 Tel Aviv and pay just $2499 (not including tips) for the ground portion of the trip.
- Individuals desiring to spread the cost of trip out into two payments can do so as well (see details in the trip's
Terms and Conditions
).
That's our group on the Sea of Galilee (above) and on the Mt of Olives (below).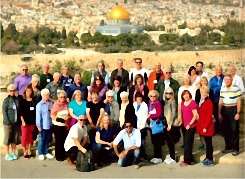 If you are interested in joining us for this terrific

experience, I recommend that you reserve your place without hesitation. Those who traveled with us on our last trip would concur! We'd love to have you in the next photos we take as we cruise the Sea of Galilee and observe Jerusalem from the top of the Mt of Olives!

What do you need to do to get started?

First,

fill out the online REGISTRATION FORM here

.

Next, make your deposit of $400 (USD) per person.

It is completely refundable through July 31st.

You can make your deposit in one of three ways:

Online - Click here t

o use our secured/encrypted online bookstore. *Note that those using credit or debit cards or PayPal will be charged 3% processing fee.

Phone

- Call us at (214) 289-5244.

Postal - Mail your check or money order to our ministry address, Take A Stand! Ministries, PO Box 279, Spanaway, WA 98387. *Please make checks payable to "Take A Stand Ministries" and write "Israel" in the memo line.

Melanie and I are really looking forward to hosting this terrific trip and hope that you can join us.

Shalom!