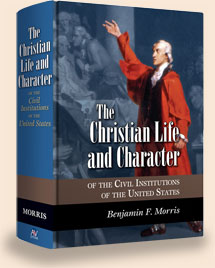 The Christian Life and Character of the Civil Institutions of the United States
by Benjamin F. Morris

Back in print after 140 years… 1060 pages that the ACLU does NOT want you to read!
This is one of the most complete accounts thoroughly documenting the Christian heritage of the United States.
This wonderful resource also includes a helpful CD which is fully searchable to help the reader locate vital content and quotes.
1 copy - $50
(ONLY TWO COPIES LEFT IN STOCK)
(order below)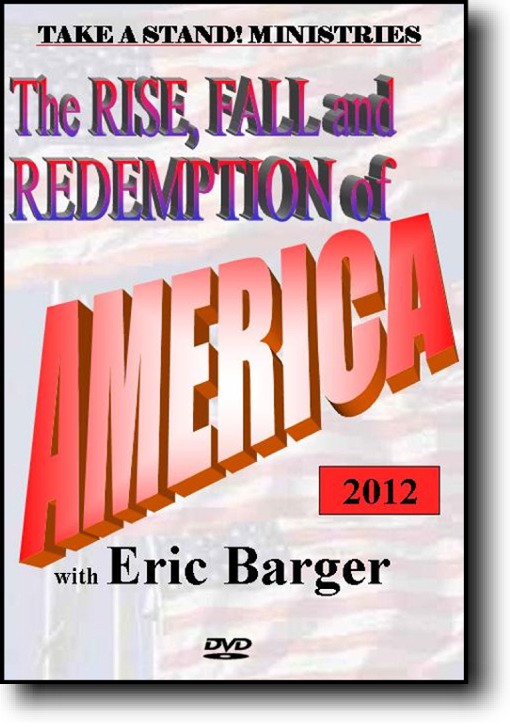 ---
1 copy - $15
3 copies - $39
DVD only
Click Here to view a clip from this video.
(Broadband connection recommended. You may download clip by "right clicking" and saving to your hard drive)

(order below)
The Rise, Fall and REDEMPTION of America


by Eric Barger


Filled with many quotes from our Founding Fathers, facts from history (often omitted by today's secular curriculum writers) and Scriptural direction, this video presentation is sure to be used as a tool to educate and inspire your family, friends and church!


What Christian Leaders are saying about Eric's teaching on America and the Founding Fathers!

-

"Anyone who loves America and is concerned about her future should invite Eric Barger to present his seminar 'The Rise, Fall and Redemption of America' His presentation of this seminar on a Monday night so touched my heart that I invited him back for the following Sunday morning to present it again! As a pastor, if you care about our beloved country be certain to have Eric share this convicting presentation of the truth with your congregation."
Pastor Mike Jones – Kentucky


"Not only well packaged, masterfully presented, and thoroughly researched...'The Rise, Fall and Redemption of America' ignited the embers of revolution against the monarchy of cultural conformity within our church. Not only did you unveil and identify the problem, but you provided a proactive battle plan for our families. I pray blessing upon you and family as you travel and look forward to your return."
Pastor Brad Howard – Texas


- "Outstanding!! Well-researched, well-documented. 'The Rise, Fall and Redemption of America' makes one proud to be an American--we are so blessed to have such a Godly heritage. We greatly enjoyed the presentation."
Pastor Dan Hayek – Washington